E3 Performance System




End-to-End Excellence
The Tile Mob's exclusive E3 Performance System (End-to-End Excellence) ensures you get the right tile for the job in the right quantity at the right time, every time.
We start by dealing with only reputable manufacturers & distributors with a proven track record for supplying high-grade tiles.
Once products have been approved for addition to our range, we go further than storing our tiles simply by type, we store them by shade/batch (dye lot). This is because we have found that tile colour may vary fractionally between batches. We do not supply single orders made up of mixed batches so you can rely on colour consistency now and in the future.
We assign an experienced tile stylist to your project to help you with tile selection, colour coordination and layout. Our tile stylists accept responsibility for your order from start to finish, and long after the cash register has rung. They establish a clear agreement on what is to be delivered, how delivery will take place, milestone dates and price.
Our advanced order tracking system means you get the right tile, in the right amount at the right time, every time. All orders are checked by your appointed tile stylist prior to delivery. We also archive all orders on computer to assemble an in-depth customer history to assist you when placing repeat or replacement orders in the future.
A Quality Outcome
Our E3 Performance System works to ensure you receive a quality outcome. We've been told by our clients that they really appreciate our attention to detail. Note: It is the responsibility of the purchaser to additionally check all Goods supplied before laying/installation/use for correctness of: type, quantity, quality, aesthetics/appearance & suitability of purpose before installation. All Goods are supplied subject to our standard conditions of sale published in detail at www.tilemob.com.au/conditions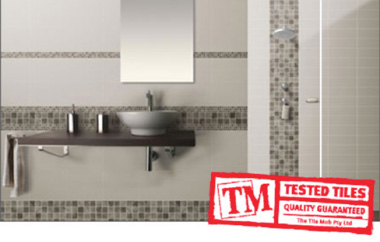 Sales Ethics
We will offer you the best advice on your next tiling project, free from the influence of manufacturers or other incentives.

We will work within your budget and timeframe.

We will rely on proven procedures to avoid mistakes, and ensure that your tile order is supplied exactly as planned.

We will store your tile order for you until a mutually-agreed delivery date.

We will supply the right product for the application (e.g. no wall tiles on floors) – WITH A QUALITY FOCUS.